When it comes to yoga mats, a long and rectangular cushion will come to mind. It is a must-have item in the yoga class, which can effectively prevent the body from touching the ground, assist the completion of the movement, and save the energy and heat of the grounding.
Yoga is now a very popular fitness program. Therefore, a necessary equipment for practicing yoga is a yoga mat. AOL specializes in the research and development of yoga mat cutting machines, and has a deep understanding of the comfort of yoga mats. How to choose a suitable one? What about the yoga mat? Now let me tell you about it.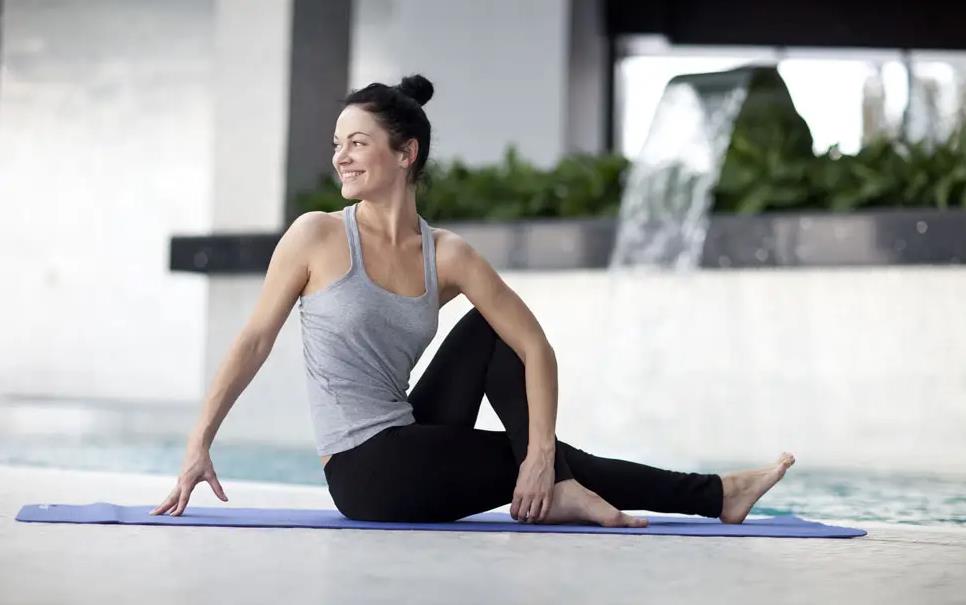 Here are a few things to keep in mind when choosing a yoga mat:
1. Support and thickness
Thickness has a big impact on the lifespan of a yoga mat, generally a heavier or thicker mat will be stronger and more durable. The thickness is generally 6mm-10mm.
2. Slip resistance
When doing Half Moon or Eagle Pose, a sticky mat with good traction can be a great way to prevent slipping, especially if you're practicing hot yoga.
3. Lightweight
This isn't really a big fuss about this, unless you really need to travel with the mat a lot, it's recommended to buy a lightweight mat that is easy to carry and fits most bags.
4. Environmentally friendly
For yoga lovers, a yoga mat can be regarded as a product that is intimately contacted every day, so using an environmentally friendly green yoga mat is a responsibility and attention to yourself. In this regard, consider all-natural rubber or jute cushions.
5. Open and closed cells
The open-cell pad absorbs sweat and is easier to clean for better traction. So, for a gentle yoga practice, consider an closed-cell mat that's smooth, durable, and water-resistant.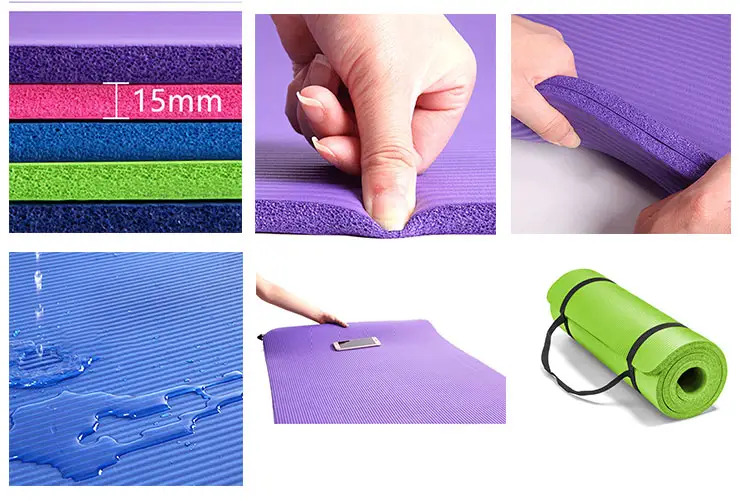 Yoga mats are usually long and square, and many businesses still use manual cutting methods. Some time ago, several businesses came to consult us and asked whether our cutting equipment could cut their materials. Our answer is yes. . Due to the influence of the current environment, manual recruitment is difficult and the cost is relatively high. It is very wise to choose intelligent cutting equipment to complete the work. I believe it will bring unexpected benefits to many businesses.
Yoga mats on the market usually include PVC, TPE, EVA, NBR and natural rubber, etc. These materials can be cut with AOL's cutting machine. Materials such as PVC, TPE, EVA, NBR are usually cut with vibrating knife tools. If the density of the rubber pad is thick and hard, it can be cut with a pneumatic knife. If the density is small and soft, a vibrating knife can also be selected.
We have cut many EVA samples for a wide variety of uses. We cut samples of EVA sheets of different shapes, from 0.5cm to 10cm in thickness, especially those with irregular shapes, the most.
AOL yoga mat cutting machine is fast and easy to operate, perfectly realizes the cutting shape you want, the whole process is automated, no manual intervention is required, and it adopts high-efficiency and high-precision servo motors, which can realize intelligent cutting faster and more accurately.
The yoga mat cutting machine has the function of intelligently optimizing typesetting, which can better typesetting and cutting materials, saving more than 30% of raw materials. At the same time, it also adopts self-developed CAM software to systematically optimize the physical overcutting phenomenon of the tool and restore the graphics to the greatest extent. contour, bringing customers the perfect cutting effect.
AOL fully automatic computerized cutting system is specially designed for your mass production cutting needs, using a blade cutter for cutting, AOL fully automatic cutting machine provides precise results when told to run, easily producing a range of lines, shapes and arcs.
The weight of the yoga mat cutting machine is more than 1.5 tons. It does not vibrate at high speed. And the equipment must go through 72 hours of uninterrupted high-load proofing and trial cutting before leaving the factory.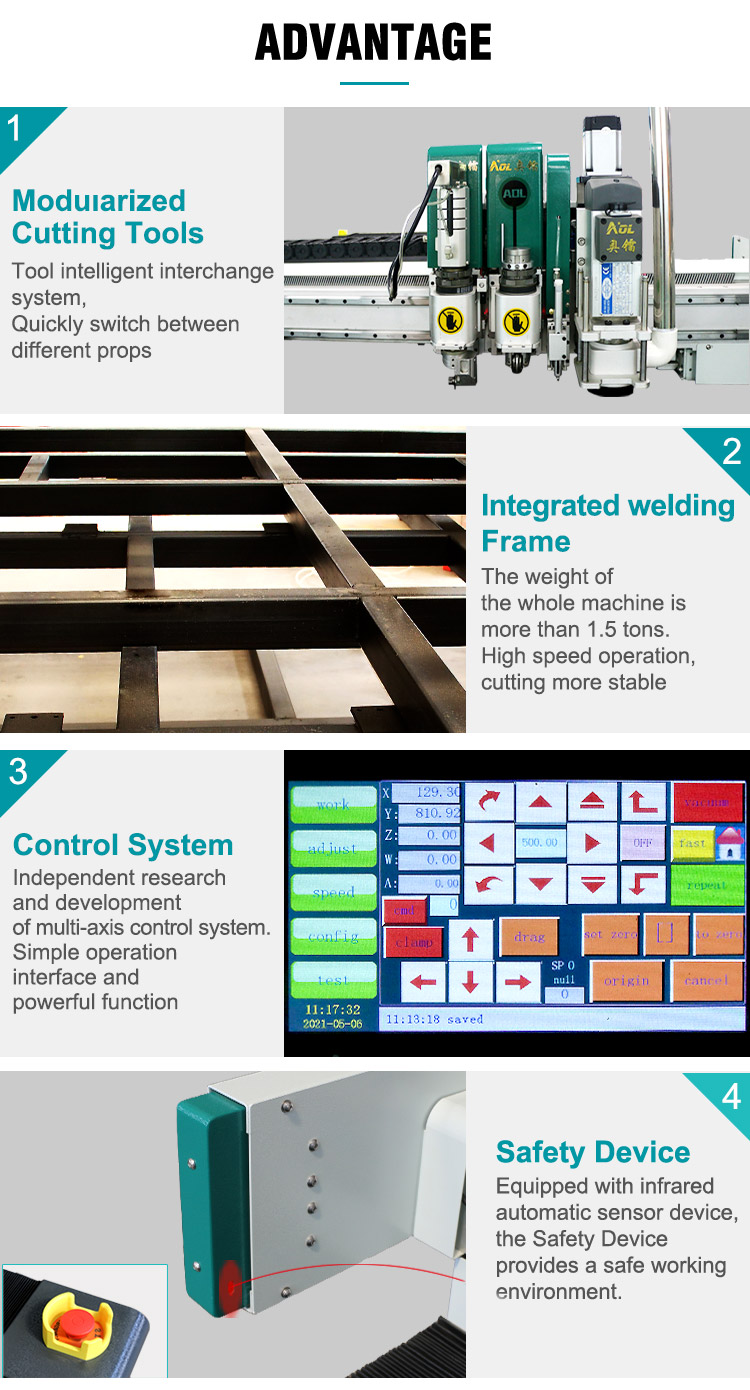 What services can AOL yoga mat cutters provide?
1. The AOL after-sales service team has more than 20 engineers.
2. At least 3 engineers serve an agent/customer, all of them can speak English.
3. We support complete user manual, use video and photos.
4. We support remote assistance to help you install and use the software.
5. We support 24*7 online guidance and services.
6. Our machines are guaranteed for 3 years, except for felts, knives and blades, during this period, if there is any problem, we will replace them with new ones for free by DHL, and for knives, we will repair them for free within one year.
7. We promise to send out replacement parts within 24 hours.
8. We will set up a service group for you, including AOL sales staff, AOL engineers, AOL sales managers, AOL sales directors and you (or your staff), if you have any questions, we will reply within 1 minute.
9. Free upgrade of AOL software for life.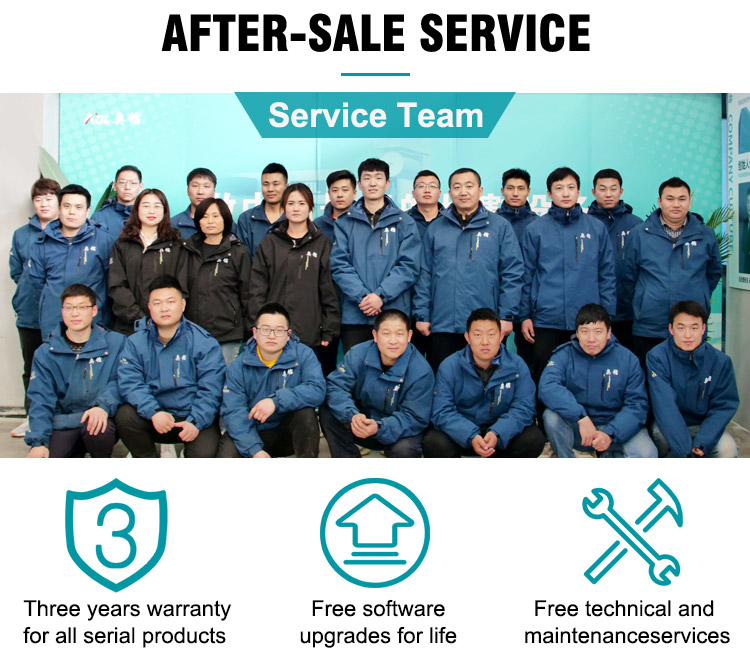 AOL company information:
AOL is a famous CNC equipment factory. AOL mainly produces CNC knife cutting machines, cutting plotters, CNC cutting tables, etc. As a high-tech enterprise, we are engaged in the research, manufacture and sales of CNC cutting machines and related products.
Widely used in advertising packaging, composite materials, carpet industry, garment textile, automotive interior, leather industry. In addition, AOL also has an independent CNC cutting machine brand AOYOO.
AOL has obtained CE certificate, FDA and ISO certificate. The company has successfully produced more than 50 varieties of AOL series products, enjoying a good reputation and support. Excellent quality and fast service make our products spread all over the world such as Europe, America, Middle East and South Asia.
AOL CNC Equipment Co., Ltd. is China's high-tech industry, AAA-level credit enterprise. The product quality has undergone multiple inspections, and the after-sales system is perfect. Has provided reliable CNC cutting machines to more than 8,000 users around the world. Provide professional industry cutting line solutions for many users.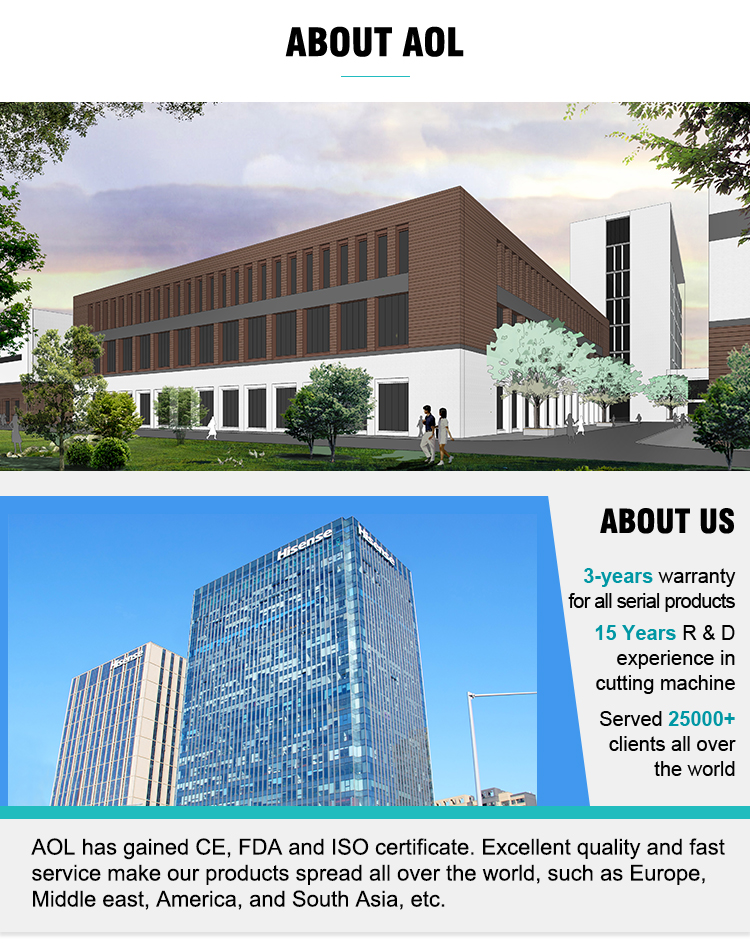 Packaging of the cutting machine:
1. Outer packing: Standard sea export plywood box.
2. Inner packing: stretchable film and plastic film to prevent moisture.
If you have special requirements, we can negotiate amicably; if you want to know more, please contact us.
AOL intelligent blade cutting machine has high precision and high efficiency. Our professional after-sales service can provide automatic cutting solutions for various industries.
For more information, please consult:
Email: info@aolcnc.com
Phone: +86-531-88620680
WhatsApp/We Chat: 0086-18560162709
youtube: https://www.youtube.com/channel/UCDiNQSjBR5DsAX9QfkWF7AA
Website: https://www.aolcnc.com/