CNC Oscillating Knife Cutting Machine is a CNC machine tool for cutting fabric, cardboard, leather, cloth, paper, gasket, fur, honeycomb panel, sponge, foam, composite and other soft materials.
This machine is widely used in clothing industry, shoemaking industry, clothing fashion cloth industry, automotive interior industry, luggage industry, packaging industry, decoration industry, electronics industry, composite material industry, etc.

This machine adopts an advanced and mature rolling table design, which can customize the cutting width of your material according to your requirements. The theoretical cutting length is unlimited. It has a vacuum suction design (small samples are no longer difficult to absorb) and automatic camera positioning function to automatically complete printing. Positioning and cutting of materials, cutting contours without manual positioning.
Equipped with swinging knife and dragging knife stroke, the knife can be equipped with half knife, cutting knife, slotting knife, dividing knife, cutting knife, indentation knife and other knives, which can realize all kinds of cutting, such as line drawing, cutting, dotted line cutting, half cutting, etc. Practical functions such as cutting and milling cutter cutting, various materials, V-CUT groove milling, pressing wheel, indentation size scratching hard materials, etc.
Various parameters of the CNC Vibrating Knife Cutting Machine:
Technical parameters / model

AOL-1625

AOL-1825
Effective working area
1600x2500mm
1800x2500mm
Multi-function tool
Pneumatic knife, projector,vibrating knife,Round knife
safety devices
Using infrared sensors, responsive, safe and reliable,Anti-collision system,Four corner emergency stop button
Cutting speed
300-2000mm/s
Cutting thickness
≤50mm Other thicknesses can be customized according to the material
Applicable materials
Cotton, linen, silk, woolen, leather, chemical fiber, blended, yarn-dyed, Oxford, corduroy, plush and other materials
Material fixing method
Vacuum partition adsorption
Transmission port
Network port
Transmission system
The X\Y axis is divided into two kinds of rack or belt
rated power
11kw
Rated voltage
380V±10%/220V±10% Optional
Control System
Chinese and English LCD touch screen
Operating environment
Panasonic servo motor, high precision helical gear reducer, Taiwan Yintai rail, Germany Henryan rack, Omron sensor, Schneider low-voltage appliances, Taiwan Mingwei power supply, Germany cable, 42mm adsorption platform, automatic feeding, Taiwan rail, energy saving fan
Support file format
AI、PLT、DXF、PDF、 PCE、XML
Overall size
3600*2400*1250
3600*2600*1250
Features of CNC Vibrating Knife Cutting Machine:
1. Vacuum adsorption function: super strong wind, strong suction, the size of the vacuum adsorption area can be selected, and the power consumption can be greatly reduced
2. Automatic tool setting function: fast and simple automatic tool setting system, using fiber laser sensor to accurately detect the tool, greatly improving the efficiency of tool setting
3. High-definition CCD camera: High-definition CCD camera realizes automatic positioning and cutting of various materials, eliminating problems such as inaccurate manual positioning and printing deformation
4. Material automatic identification function: Automatically detect the thickness of the material, no need to manually measure and then record the thickness data to the software
5. Safety guarantee function: Infrared sensor system, 360° surrounding safety, to ensure the safety of the operator.
6. High-precision platform: The solid aluminum honeycomb platform has good suction effect, ensures the platform is flat, and does not deform after long-term use.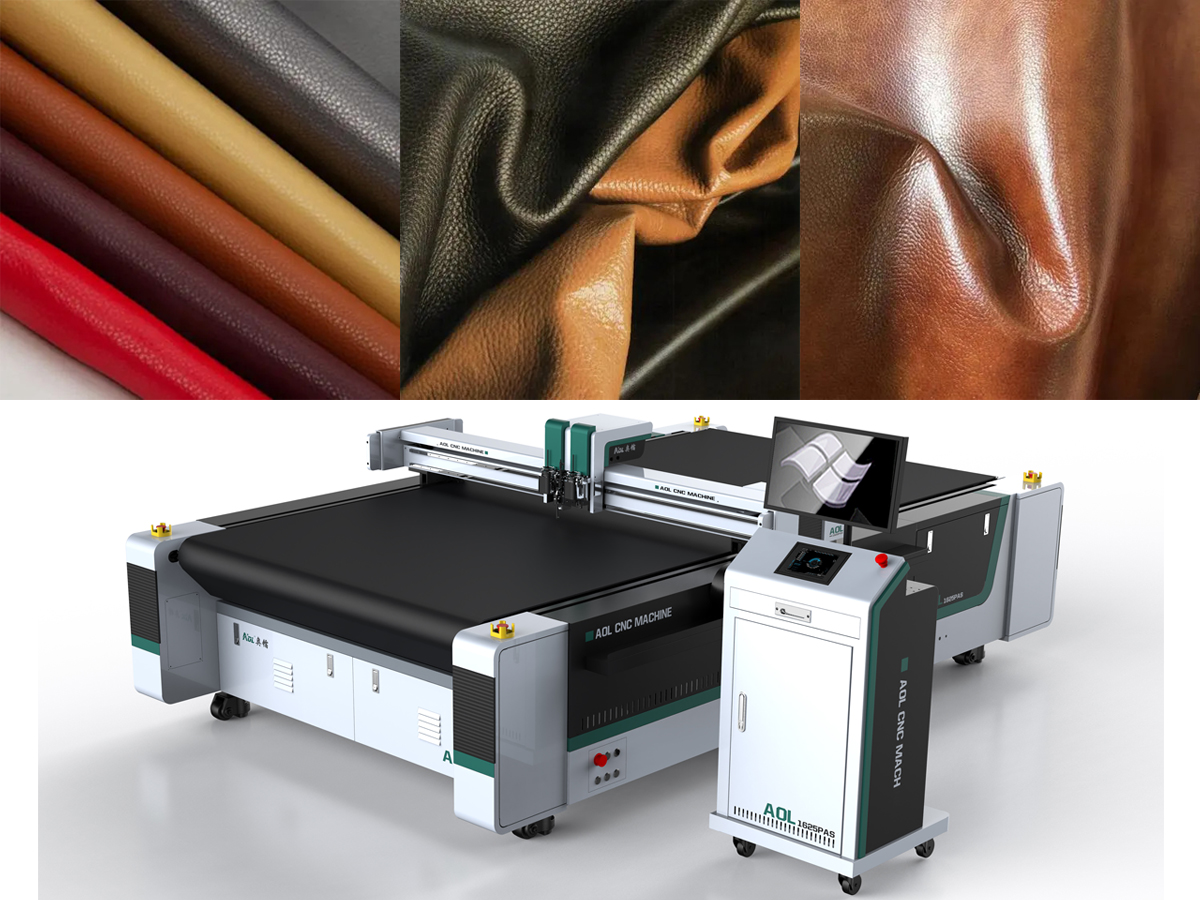 High quality oscillating knife cutting machine made in China, advanced digital oscillating and oscillating knife cutting machine, oscillating knife cutting machine plotter. AOL CNC series vibratory cutting machine includes carpet vibrating cutting machine, floor mat vibrating cutting machine, foam vibrating cutting machine, corrugated cardboard, honeycomb, paper and gray board vibrating cutting machine, sample cutting machine, leather vibrating knife cutting machine, cloth vibrating cutting machine , Clothing vibrating knife, gasket CNC cutting machine, KT plate cutting machine, digital printing plate vibrating knife cutting machine, etc. Different vibrating knife cutting machines have different functions, as long as you find the right vibrating knife cutting machine, you can complete the production operation efficiently.
What is CNC Oscillating Knife Cutting Machine?
The CNC oscillating knife cutting machine adopts the visual control system, sets the processing mode through the CNC knife engraving instrument software, optimizes the cutting path according to the processing requirements of the material, and then downloads the file to the controller flat knife plotter.
The processing parameters (cutting speed, acceleration, cutting depth of the blade, etc.) are set by the digital control panel of the CNC cutting machine, and the machine tool is ordered to process the parts.
Set the cutting parameters (cutting speed, acceleration, cutting depth, etc.) through the visual control panel, and the CNC tool cutting machine will automatically process the material according to the drawing.
The intelligent vibrating knife cutting plotter uses the high-frequency vibration of the blade to achieve the purpose of cutting.
What is the difference between an oscillating knife cutting machine and a laser cutting machine?
Oscillating knife cutters use sharp or round knives to cut through vibration or high-speed rotation. The advantage is that the cutting is clean and neat, the size of the cut piece is accurate, there is no peculiar smell, and it is environmentally friendly. Laser cutting machine, the cutting surface is very good and clean. The maintenance of the laser machine is also relatively large. The laser will heat up after a long time and needs water cooling. After the machine head burns through the fabric, it will leave yellow marks on many fabrics. The downside is that it smells great.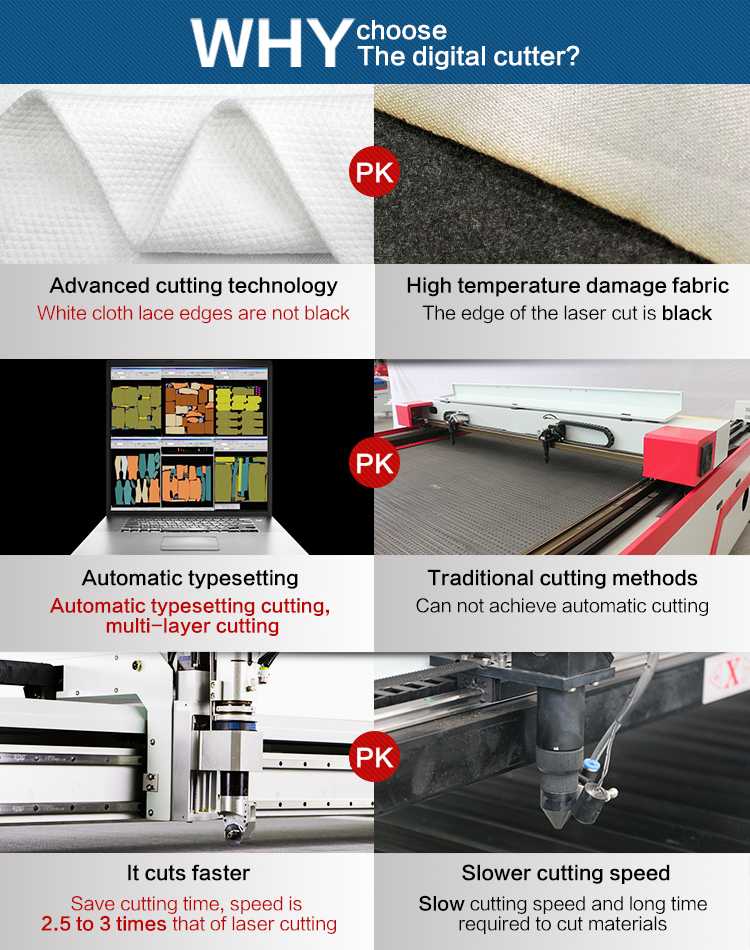 When choosing an oscillating knife cutting machine, the first thing to look at is whether your material can be cut. If you are not sure, you can ask us. If you still want to know more, welcome to browse our website or contact whatsapp: +86 18560162709