Today I am going to talk to you about the carpet industry that we are very familiar with. If you are a manufacturer of carpet floor mats, please remember to read this article, maybe it can help you solve big problems!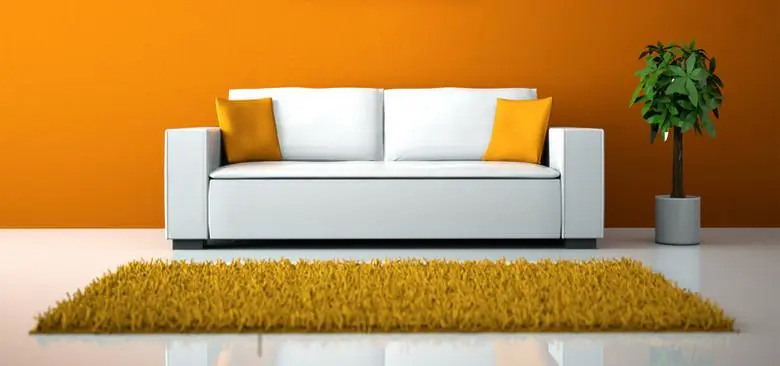 I don't know if you have found such a problem? It is now that with the improvement of living standards, more and more people like to customize! This phenomenon is reflected in all aspects. Everyone likes their own things and wants to add their favorite elements to the items they buy. For example: the decoration style of the house, they will find a design company according to their favorite style. Decoration; items for home use, like niche styles; including small items, the phone case is customized, the key chain is also customized, and so on.

The same is true for carpets. The kind that has long been "bad street" is no longer the choice of contemporary young people. Everyone wants to buy the material, pattern and shape they like, that is, private customization, even if they spend a little more money. , and also want to buy what you like.
Therefore, as a carpet manufacturer, should you also consider this point and change your thinking, maybe you will be able to seize new business opportunities. Because many manufacturers still choose mass-produced carpet processing, they do not care about small-scale customization, or even bother to do it. Then the competition in this market is not so great, and there are many opportunities.
Let's take a look at how to choose equipment for such a market! If you want to do small batch special-shaped cutting well, the original cutting equipment is difficult to meet, and you need to use suitable cutting equipment, which is what I mentioned in the title: carpet blade automatic cutting machine, here AOL is used as an example.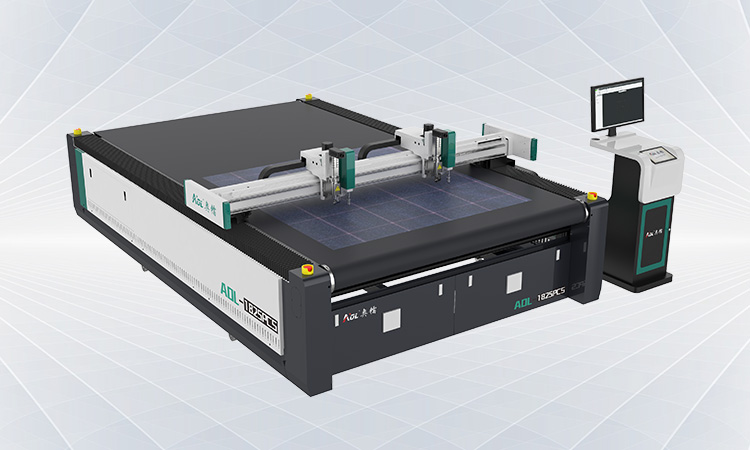 Cutting speed, cutting accuracy, protection of material properties, material saving, money saving, labor saving, etc., we all have to consider these issues, and these AOL blade automatic cutting machines can all be done. And it is very intelligent. No matter what shape you want, you only need to upload the pattern to the computer, and you can cut it. Contour recognition, pattern recognition, edge finding and cutting are also easy to do, automatic feeding, automatic typesetting, and automatic cutting. One machine can do four The life of five people is really fragrant! The cut-out products are beautiful, highly competitive, and full of confidence. Are you worried about lack of market competitiveness?
If there are only these advantages, it is not enough. In order to meet the needs of each customer, support for customization allows you to have your own exclusive equipment and make your products unique. In many cooperative carpet manufacturers, each customer has his own focus, so the equipment is now perfect under the grinding of our customers!
Our machine adopts advanced and mature rolling table design, the cutting width of your material can be customized according to your request, the theoretical cutting length is unlimited, with vacuum suction design (small sample adsorption is no longer difficult) and automatic camera positioning function , it can automatically finish the positioning and cutting of printing materials, and the contour can be cut without manual positioning.
Company Info:
AOL is a famous CNC equipment factory. AOL mainly produce CNC Knife Cutting Machine, Cutting Plotter, CNC Cutting Table and so on. We, as a high-tech enterprise, engaged in research, manufacture and sell the CNC cutting machine and relevant products.
Widely used in advertising packaging, composite materials, carpet industry, clothing textiles, automotive interiors, and leather industries. In addition, AOL also has an independent CNC cutting machine brand AOYOO.
AOL has gained CE certificate, FDA and ISO certificate. Company successfully produce AOL series products of more than 50 sorts, which enjoy good reputation and support. Excellent quality and fast service makes our products spread all over the world as Europe, America, Middle east and South of Asia.
AOL CNC Equipment Co., Ltd. is a high-tech industry in China and an AAA-level credit enterprise. The product quality has undergone multiple tests and the after-sales system is complete. It has provided reliable CNC cutting machines for more than 8,000 users worldwide. Provide professional industry cutting assembly line solutions for many users.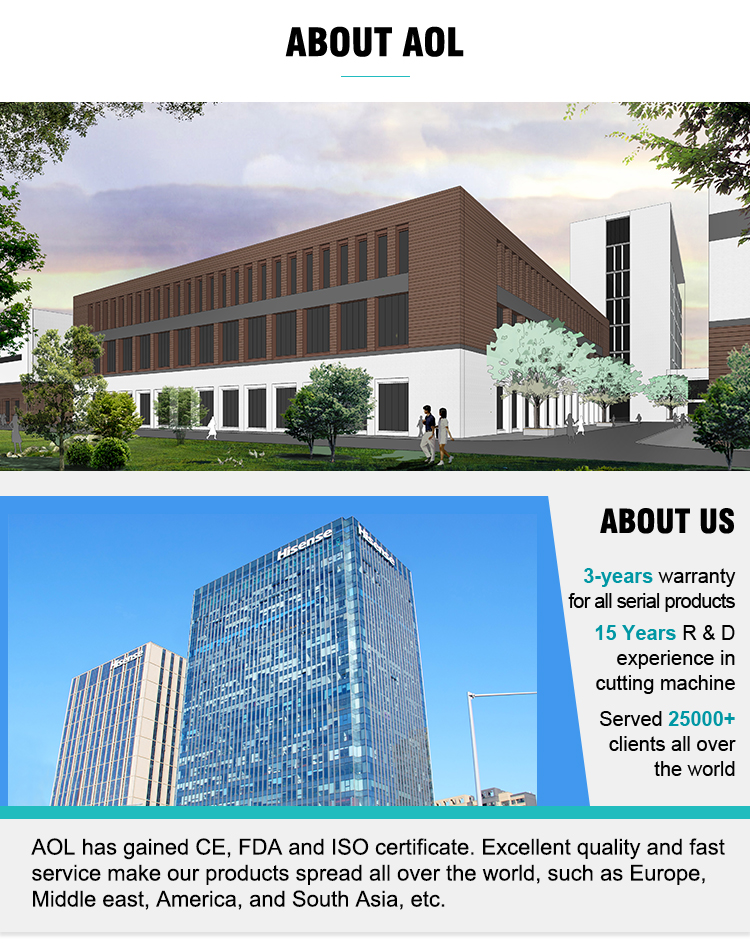 About after-sales service:
1. The AOL after-sales service team has more than 20 engineers.
2. At least 3 engineers serving an agent/customer, all of them can speak English.
3. We support complete user manual, use video and photos.
4. We support remote assistance to help you install and use the software.
5. We support 24*7 online guidance and services.
6. Our machines are guaranteed for 3 years, except for felts, knives and blades, during this period, if there is any problem, we will replace them with new ones for free by DHL, and for knives, we will repair them for free within one year.
7. We promise to send out replacement parts within 24 hours.
8. We will set up a service group for you, including AOL sales staff, AOL engineers, AOL sales managers, AOL sales directors and you (or your staff), if you have any questions, we will reply within 1 minute.
9. Free upgrade of AOL software for life.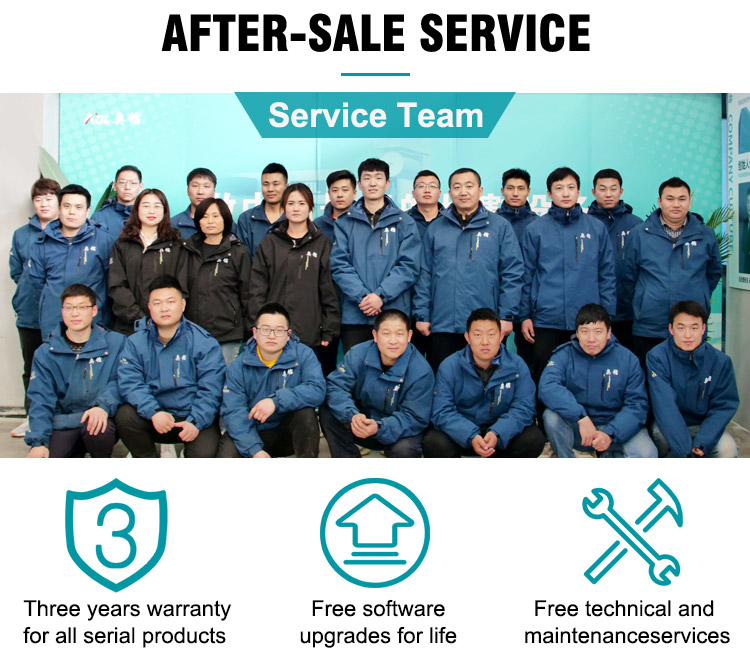 Let's talk so much today. If you want to know more, you can contact us for detailed consultation, and we will explain it to you as soon as possible!